Today was another difficult day. The severe wind and rain had passed but there was still a lot of menacing clouds in the sky. When I started out the day it was just cold... Nothing like what I faced earlier on the trip but compared to the 95 degree temperatures of the last couple of days it was cold. In addition to the cooler temperatures, a large portion of the ride today was done in the rain. Because of this, I didn't make as many stops or take as many photos as I did yesterday.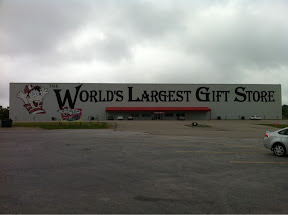 So I found another Starbucks for my morning coffee. After that I went on my way. My first stop/ break was at the Redmond Candy shop. This also next to the "worlds largest gift store". Unfortunately, only the candy store was open. I got some water for my pack then got back on the road.
After leaving the last break, I really started to look at the road. It is interesting how good the road is to travel on. When you compare Route 66 to the interstate, the interstate is just plain boring. The interstate is fairly flat and is, for the most part, it's straight. Route 66 is noting like this. There are lots of curves and hills. The best way to describe the road is to compare it to my favorite stretch of road: Hwy 146 from Hwy 25 to the general store going to the Pinnacles in Hollister. Then only difference here is that there is a lot more vegetation around the road. Once I started noticing the road I had to stop and try to photograph it. While doing this, I had Brian, a local dairy farmer, roll up in a side-by-side ATV. He asked if everything was OK or if I needed help. I explained that I was just taking some photos of the road. We talked for about 5 minutes before he said he had to go get back to work...he had more cows he had to milk.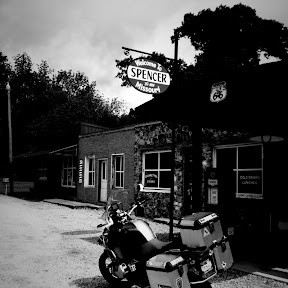 Then next place of interest I ran into was another restored gas station. It was in the middle of no where, kind of hidden and out of the way. Shortly after that stop, I had to stop at a working gas station for a bathroom break and a candy bar. The service station had this strange airplane thing in the front. I think it had something to do with the name of the station: Flying W.
Shortly after that stop I found Peggy Sue's Drive-In and had some lunch. As soon as lunch was over, it began to rain...hard. I put my gear on and started down the road. From this point, I pretty much stayed on the bike fighting the wind and rain. I found a couple of places that looked pretty cool that I had to stop and photograph.
Then it was time for the hunt for the hotel. The first thing I have to say about this is that toll roads total suck! The ones here don't accept the E-ZPass and exact change is needed. I ended up getting stuck in the backwoods of Oklahoma trying to get to a hotel without getting onto the turnpike. I didn't have NY change for the toll. It took a better part of an hour to find a hotel. After about 10 minutes, I was getting nervous... I could have sworn I was hearing banjos.
So that was it for today. I'm sorry I don't have than many photos... Hopefully there will be more in my next entry. Until then, I'll be seein' you on the road.
Total miles traveled today: 300
- Posted using BlogPress from my iPad
Location:Jenks,United States