Let's see if I can get this published correctly.
Today started out as a bad day. I was tired from getting to bed last night and getting up early this morning. On top of that, I had a problem with the room where I thought they used something to clean the room that made it feel like I was inhaling ammonia. They did change my room but it followed me. Turns out that I must have ridden through some really nasty pollen yesterday some where in Texas. It was all over my riding suit and I was feeling the affect all day. When I got to the room, I basically rinsed my suit, CamelBak, boots, gloves, and helmet. I am feeling much better now so on with todays update...
The day started with me getting back to the start of today's route 30 miles from the hotel. My first major stop with in Adrian, Texas. This is the exact midpoint of the route. There is this cool sign and a really cool cafe/ gift shop. I ended stopping for breakfast.
Shortly after breakfast I made it into New Mexico. My first stop was at the visitor center. It was pretty cool as it was built in the southwestern style. It is different than all the others I have stopped at during the trip. There was also this bronze casting of a dinosaur fossil. There is actually a dinosaur museum in New Mexico but it was closed today.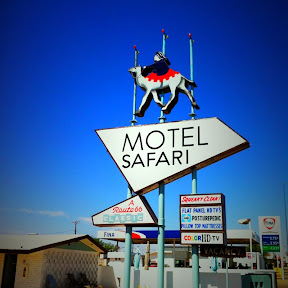 My next stop was at a coffee shop in Tucumcari. This town is is about 5000 people and was really cool. I actually stuck around and snapped a bunch of photos of all the different places. This is the city that had the dinosaur museum.
The next photos are of road segments in New Mexico. When compared to the others I have posted there is a definite difference between these than the other roads in the route. While I was on this road, I found this little oasis that was essentially in the middle of nowhere. When I walked in, there was a guy getting gas who asked the check out guy " that church over there, how old is it?". The check out guys response "old". I couldn't help but to laugh.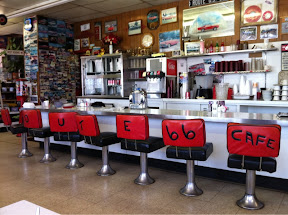 By this time, I was ready for lunch. I found this cafe in Santa Rosa, the Route 66 Cafe. This is a cafe and a gift shop, like all the other shops along the route. There is a lot of route 66 memorabilia through out the place. They also serve pretty good food too.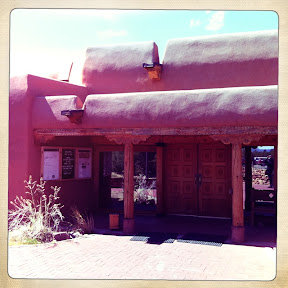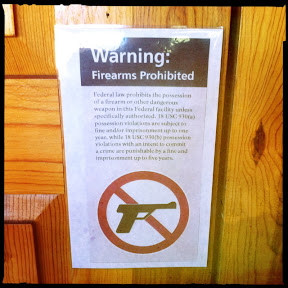 On my way to my stopping point for the day, Santa Fe, I stopped at the Pecos National Historical Part. This is a small museum and an actual pueblo that you can walk around. It was pretty cool.
My final stopping point of Santa Fe is really cool. The architecture of the buildings is really beautiful. I didn't have a chance to take any photos as I was looking for the hotel and didn't stop to snap some pics. I may walk around tomorrow morning...depending on the timing.
I think that is it for the day. So until next time, I'll be seein' you from the road.
Total miles traveled for the day: 305
- Posted using BlogPress from my iPad
Location:Santa Fe,United States