Today I left New York to start my trip home. The weather all day was beautiful. If fact, for the good part of the day it was in the high 70s. Started out with the goal of just getting out of the city traffic as I left Long Island. I ended up going over the Throgs Neck and George Washington bridges. I got to use my E-ZPass on the bridges...it made things a lot easier going through the bridges and toll roads. My first stop was about an hour and a half into the trip in New Jersey. The place was absolutely beautiful. Going down 78 I saw a sign for Dunkin' Donuts so I stopped. The shop was about a mile off the highway and at the time, I had no idea what stare I was in. The location of the shop is in the center of the state. It was funny because I had ordered a quad espresso and received an 8-shot cup... Boy, was that a surprise!
Before my next stop, I spent about an hour moving up Interstate 78 about 10 miles. Their equivalent of CalTrans was in full affect as they closed down 2 lanes of a 3 lane highway. This made for a really bad ride. Between the stop and go traffic and watching my bikes temperature rise, it was a rather taxing road segment. Air cooled bikes don't seem to like idling at a standstill. My next stop was in Pennsylvania at the New Smithville Diner. Since I was there, I had to try a Philly Cheese Steak sandwich. After having some lunch, I got back on the road. I got onto the Pennsylvania turnpike and followed that for a while. When I left I had an idea of where I wanted to go but there was no real destination. All I knew is that need to be in Chicago in 2 days to start my ride through route 66 on schedule. I stopped at various service plazas along the turnpike. I still think the plazas along the toll roads in Indiana are the best.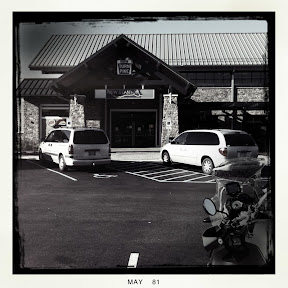 I ended up in Bridgeville PA... Just outside of Pittsburg. I should be able to be just outside of Chicago tomorrow night. The first time I was in Pennsylvania, I thought that it sucked. I have to say that my second (going to NY on I80) and third (today) confirmed that I don't like Pennsylvania. Actually, Pennsylvania stinks... Both figuratively and literally. the traffic generated by the lane closures was a real pain. Then, to add to it, there seems to be live stock farms every five minutes on the road creating a nice aroma.
Well, that's it for now. As mentioned above, I should be outside of Chicago by tomorrow evening. So, until then, I'll be seein' you on the road...
Total miles for the day: 435
- Posted using BlogPress from my iPad
Location:Bridgeville,United States