Started the day day by completing the section of road I neglected g get to yesterday. I rode for about 30 miles to get to Edwardsville where they actually had a Starbucks. Stopped for some coffee and pastry before I started on the next section of the mother road. The morning part of the ride had the several old things to photograph and check out. The first thing I ran into was the sign for the Bel Air Drive in. There is nothing left of this place but the sign. After snapping some pics, I continued on. I had to stop at this cafe called the Luna Cafe. It is still an open business but since it was so early, it was closed. I had to stop because there was a train that was blocking the road as it was taking it's time crossing the road.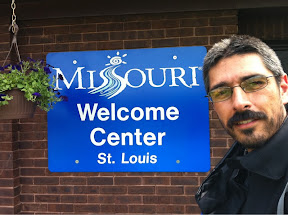 I continued on and was guided by "Karen" on and off the interstate until I got too St Louis. I must have pissed her off... Or I just programmed the route poorly but I ended up taking a tour through the Ghettos of St Louis. Sorry guys, I didn't want to stop to take photos. I did end up passing that arch thing while passing through. I did stop to snap a pic of that.
After working my way through St Louis, I continued on until I reached Pacific MO. There I found a car wash that had a cool neon sign. It was still a working business but the neon wasn't on. Snapped some photos of that and then moved on. Shortly after leaving the car wash, I found this really creepy hotel. It looked like it could have been used to make any of these scary movies (Vacancy, Psycho, etc).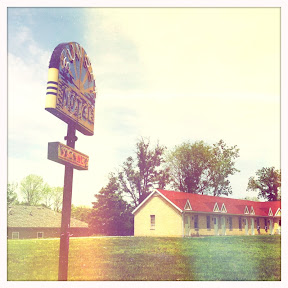 As I continued down the road, I found a sign for this little slice of Americana...the Meramac Caverns. I rode the 3 miles off the main road to find a little cafe that I could stop at for lunch. I also found another sticker for my bike there "Missouri". I snapped some photos of the site then moved on.
There was so much along this segment that I am probably leaving stuff out. I stopped in Cuba, MO and another stop at Mr. C's Route Post. There was another stop at this Indian thing but I don't remember when I stopped there. I did snap some photos but is maybe a little out of order from the rest of the stuff.
As I write this, there is one hell of a storm going on out there. There are "severe thunder storm" warnings in affect until 10 tonight. There is currently 40-50 MPH wind gusts, pouring (sideways) rain, thunder, and lots of lightning. I am sitting in my room watching my poor bike on it's side stand resisting the winds attempts to put it on it's side. All I can do now is hope that is stays upright.
I will post more on this tomorrow. Until then, I'll be seein' you from the road.
Total miles traveled today: 265
- Posted using BlogPress from my iPad
Location:Lebanon,United States